Meteorology
Weather Services for Shipping
World Meteorological Organization
The World Meteorological Organization is an intergovernmental organization with a membership of 187 Member States and Territories. It originated from the International Meteorological Organization (IMO), which was founded in 1873. Established in 1950, WMO became the specialized agency of the United Nations for meteorology (weather and climate), operational hydrology and related geophysical sciences.

Since its establishment, WMO has played a unique and powerful role in contributing to the welfare of humanity. Under WMO leadership and within the framework of WMO programmes, National Meteorological and Hydrological Services have contributed substantially to the protection of life and property against natural disasters, to safeguarding the environment and to enhancing the economic and social well-being of all sectors of society in areas such as food security, water resources and transport. It has a unique role within the UN system it facilitates the free and unrestricted exchange of data and information, products and services in real- or near-real time on matters relating to safety and security of society, economic well being and the prevention of the environment.
As weather and climate know no national boundaries, international cooperation at a global scale is essential for the development of meteorology and operational hydrology as well as to reap the benefits from their applications. WMO provides the framework for such international cooperation.
<![if !vml]>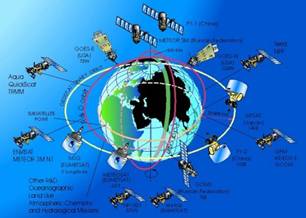 <![endif]>
In the specific case of weather natural disasters which account for nearly three-quarters of all are such events, WMO's programmes provide the vital information for the advance warnings that save many lives and reduce damage to property and the environment. Human induced disasters chemistry, nuclear and forest fire .

Sources of weather information available to shipping
Navtext – continuous however available only in coastal areas – not for ocean passages
VHF – port information
Weather FAX – all over the world
Inmarsat C – Same broadcast as Navtext but for coverage area of Inmarsat
High Frequency (HF) broadcasts – Ocean passages
Information flow between merchant ships and some Meteorological Offices
Under the aegis of WMO, IMD has enlisted a cooperating fleet of Voluntary Observing Ships for collection of meteorological observations from ocean areas. The VOF consists of merchant ships of Indian registry, some foreign merchant vessels and a few ships of the Indian Navy, totalling 203. These ships have Meteorological instruments supplied by IMD. The observations are transmitted by the ships to the nearest coastal radio stations for onward transmission to the storm warning centres. Records of observations are passed on to the Department when the ships call at ports. IMD's Port Meteorological Offices provide asistance for callibration and maintenance of the equipment on board the ship
Services provided for shipping by Meteorological Offices
Meteorological Service Division, National Environment Agency is a pioneer in the provision of routine weather forecasts and storm warnings for shipping in the region. As a member of the World Meteorological Organisation, MSD participates actively in its Marine Meteorology Programme to enhance safety at sea and fufill our regional responsibility with WMO and the Safety of Life at Sea Convention (SOLAS, 1989 and 1974) of the International Maritime Organisation (IMO).
Services:
Issue of storm warnings and routine weather bulletins for shipping transmitted directly to vessels at sea via High Frequency (HF) broadcasts
Provision of port meteorological services for Singapore registered ships
Collection and exchange of ship's weather reports relayed via Inmarsat from ships
Provision of meteorological services for maritime search and rescue operations including oil spill incidents.
Additional Services:
Weather and seas conditions surveillance and issuance of storm warnings and advisories for shipping
Forecasts for sea navigation, off-shore drilling and mining operations, cable and pipe- laying and the towing of vessels and platforms
Weather watch and forecasts in and around harbour areas such as cargo handling, barge loading and navigation are
Assessments of weather conditions for purposes of marine accident investigations and insurance claims
Provision of climatologolical and historical weather & oceanic data for studies, site assessments and planning.
Singapore MSD has the capability of providing the required weather information and forecasts in support of all of the mentioned activities. With its highly qualified internationally trained staff, advanced technology and quick access to the worldwide weather data, MSD is indeed well-poised to meet the demands of the region's maritime community.
Weather bulletin and the contents of each of its sections
Weather Chart and the detailed message relating to the same.
The message is divided in parts and the same is shown and what they contain.
<![if !vml]>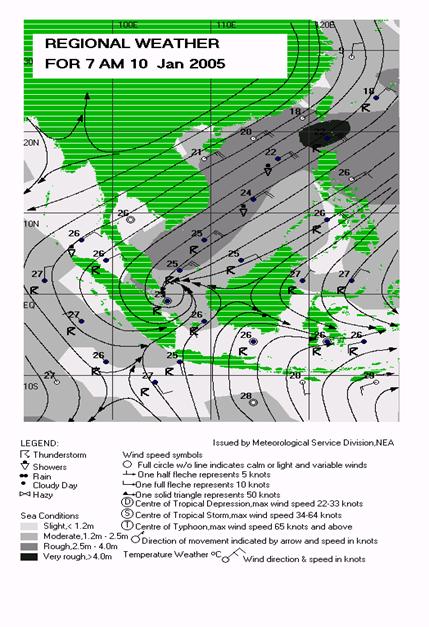 <![endif]>
SINGAPORE WEATHER BULLETIN FOR SHIPPING
(Regular updates at 0900 UTC and 2100 UTC)

PART ONE:

STORM WARNINGS

TTT Warning at 090600 A monsoon disturbance was located in the South China Sea, north of latitude zero five degrees North (05N) and east of longitudes one zero five degrees East (105E). Sea moderate to rough and swell moderate to high from NE. Winds NE 20 to 25 Knots. This monsoon disturbance is expected to persist during the next 18 hours.

PART TWO:

GENERAL SITUATION

Moderate NE Monsoon.

<![if !vml]><![endif]>

PART THREE:

FORECAST VALID 12 HOURS FROM 09 Jan 2005

PHUKET

ENE 10/20 Knots. Isolated showers. Sea slight to moderate. Swell low to moderate.

MALACCA

NE/N 10 /15 Knots. Scattered showers/isolated thunderstorms. Sea slight. Swell low.

TIOMAN

NE/N 15/20 Knots. Scattered showers/isolated thunderstorms. Sea moderate . Swell moderate.

BUNGURAN

NE/N 15/20 Knots. Scattered showers/thunderstorms. Sea moderate . Swell moderate.

CONDORE

NE 25 Knots. Isolated showers. Sea rough. Swell high.

REEF

NE 25 Knots in north, NE/N 15/20 Knots in south. Isolated showers in north and scattered showers/isolated thunderstorms in south. Sea rough in north, moderate in south. Swell high in north, moderate in south.
Types of information received by facsimile machine
All type of information is received by a weather FAX. In fact it is easy to understand since the notes form of weather message requires to be laid out on a chart, wheras the weather FAX already has a map printed on it.
<![if !vml]>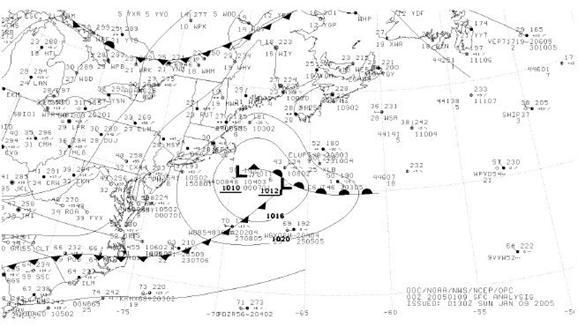 <![endif]>
<![if !vml]>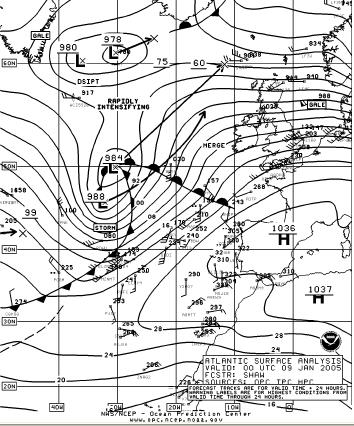 <![endif]>
Services provided for storm warnings
Storm warnings are transmitted over various means of transmission.
They include:
Navtext – continuous however available only in coastal areas – not for ocean passages
VHF – port information
Weather FAX – all over the world
Inmarsat C – Same broadcast as Navtext but for coverage area of Inmarsat
High Frequency (HF) broadcasts – Ocean passages
SAMPLE MESSAGE
Issued on 09/01/2005 2312LT

    
STORM WARNING: TROPICAL CYCLONE 01B                            
Current position on 09/01/2005 12Z  6.4N  83.5E
Max Winds/Gusts  25/ 35 (kt)
Movement past six hrs: 015 deg 04 kt
Forecast position on 10/01/2005 00Z  6.5N  82.9E
Max Winds/Gusts  25/ 35 (kt)
Forecast position on 10/01/2005 12Z  6.2N  81.9E
Max Winds/Gusts  20/ 30 (kt)
Forecast position on 11/01/2005 00Z  5.9N  80.6E
Max Winds/Gusts  20/ 30 (kt)
Forecast position on 11/01/2005 12Z  5.8N  78.9E
Max Winds/Gusts  20/ 30 (kt)